💛 Attitude Shayari 💛
हमसे दुश्मनी करने वालो क्या तुम्हारी शामत आई है,
क्या तुम्हें पता नही है यमराज हमारा छोटा भाई है।
Hamse dushmani karne walon kya tumhari shaamat aayi hai, Kya tumhe pata nahi hai yamraj hamara chhota bhai hai.
---
मोहब्बत करना तो मेरा उसूल है,
मेरे खून में बस यही जनून है,
अगर तुझे मेरा साथ देना है तो आजा,
वरना तुझसे भी ज़्यादा कितनी लडकिया दुनिया मे कूल हैं।
Mohabbat karna to mera usool hai, mere khoon me bas yahi junoon hai, Agar tujhe mera saath dena hai to aaja, warna tujhse bhi jyada kitni ladkiyan duniya me cool hain.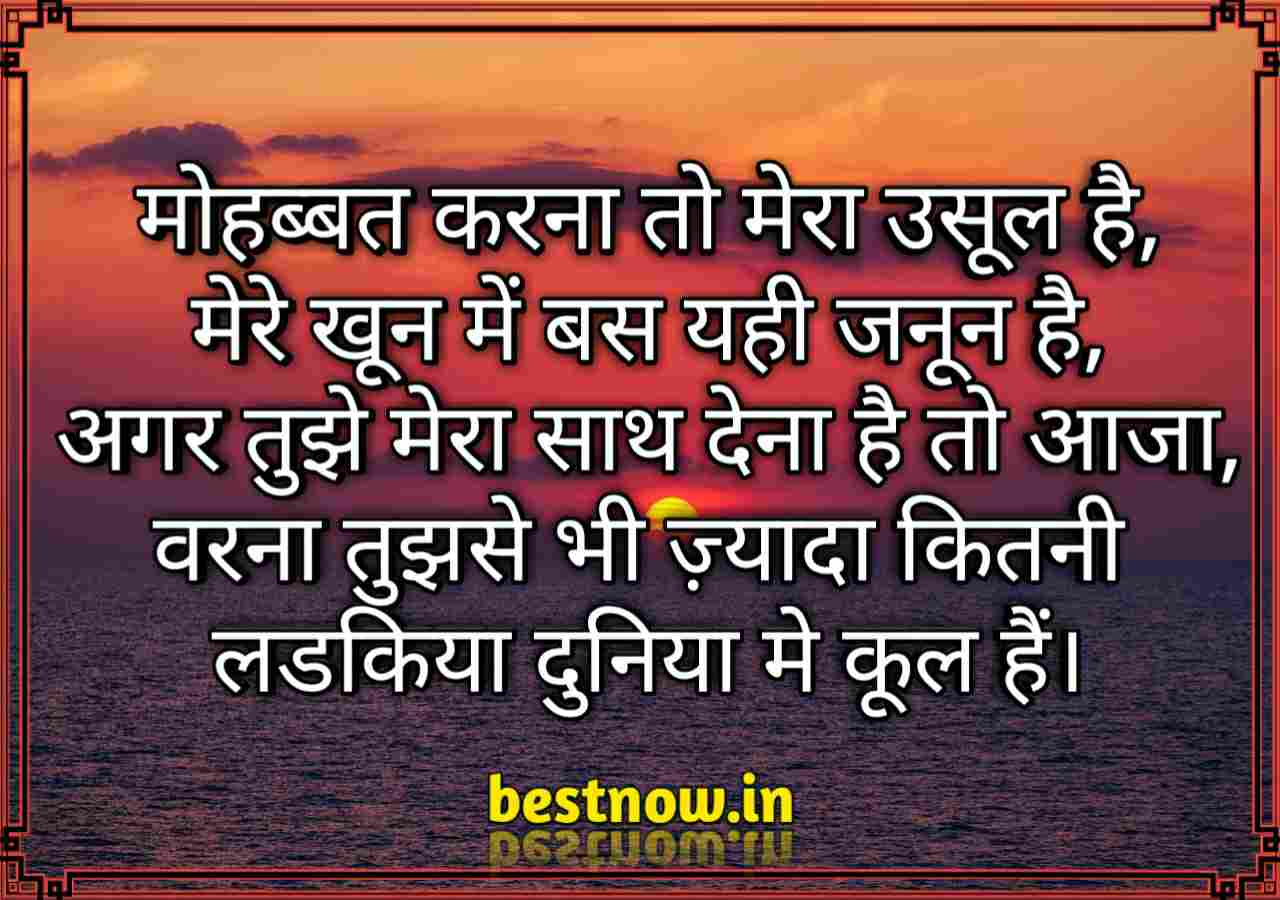 ---
कोई भी मुझे हरा कर मेरी जान लेजा सकते हैं,
हम इतना अपने अंदर जुनून रखते हैं,
लेकिन मुझे कोई धोखा देता है,
तो फिर उसे हम दूसरा मौका नही देते हैं।
Koi bhi mujhe hara kar meri jaan leja sakte hain, ham itna apne andar junun rakhte hain, lekin mujhe koi dhokha deta hai, to phir usey ham doosra mauka nahi dete hain.
---
जिनके पास जिगर होता है,
उनका डर से कोई वास्ता नही होता है,
हम अपने कदम उसी जगह रखते हैं
जहां कोई रास्ता नही होता है।
Jinke Paas jigar hota hai, unka dar se koi wasta nahi hota hai, ham apne kadam usi jagah rakhte hain, jahaan koi rasta nahi hota hai.
मैं ज़रा सी क्यूट क्या हुई,
सारी दुनिया मुझसे जेल्स हुई।
Main Zara si cute kya hui, Saari duniya mujhse jels hui.