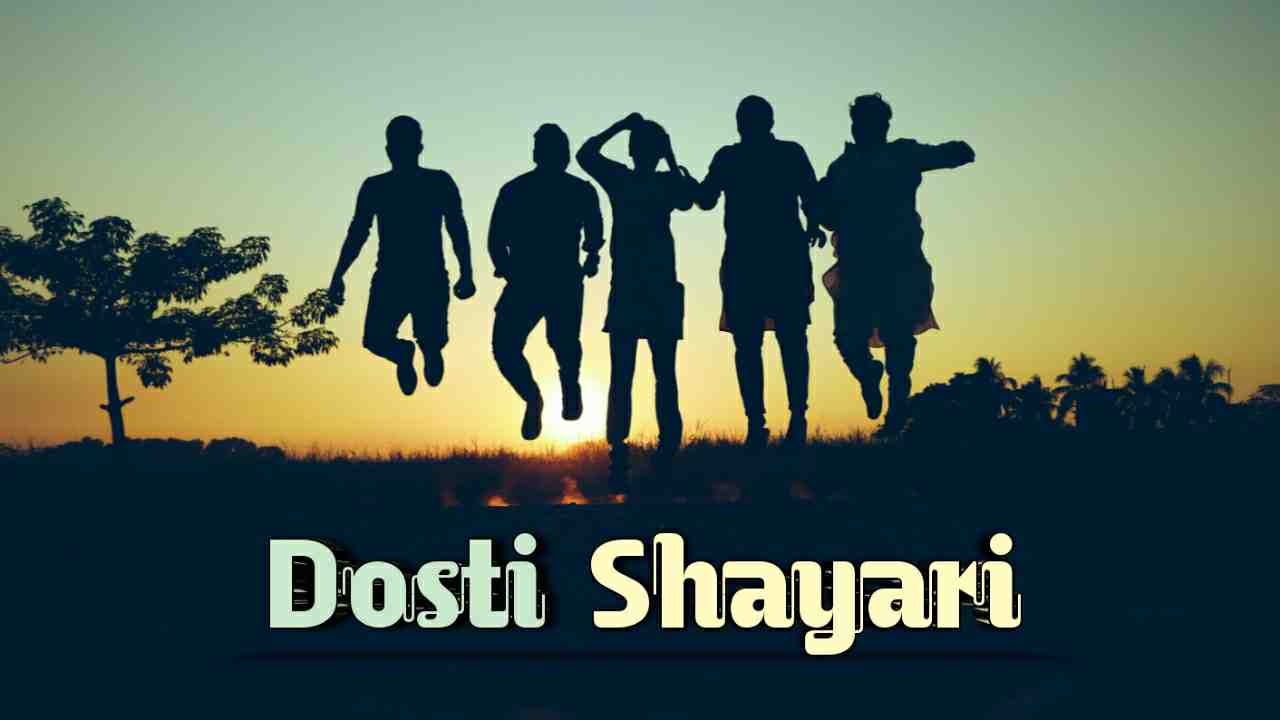 💨 Dosti Shayari  💨
आशा ऐसी हो जो कामयाब होने को मजबूर करे, रास्ता ऐसी हो जो चलने को मजबूर करे, महक कम न हो कभी अपनी दोस्ती की, दोस्ती ऐसी हो जो मिलने को मजबूर करे।
Aasha aisi ho jo kamyab hone ko majboor kare, rasta aisi ho jo chalne ko majboor kare, mahak kam na ho kabhi apni dosti ki, dosti aisi ho jo milne ko majboor kare.
---
🖼 dosti shayari with images  🖼
उन लम्हों की हवा में एक शाम हमारा हो, उगते चमन में एक गुल हमारा हो, जब सोचे हम अपने दोस्तों के बारे में, उन नामों में बस एक नाम तुम्हारा हो।
Unn lamhon ki hawa me ek shaam hamara ho, ugte chaman me ek gul hamara ho, jab soche ham apne doston ke baare me, unn naamon me bas ek naam tumhara ho.
---
💖 हिंदी शायरी दोस्ती के लिये  💖
जिंदगी में कुछ दोस्त अपने बन जाते हैं, कुछ दिल में तो कुछ आँखों में बस जाते हैं, कुछ दोस्त धीरे से अलग भी हो जाते हैं, पर हम जो हैं सबको दिल से चाहते हैं।
Zindgi me kuchh dost apne ban jaate hain, kuchh dil me to kuchh ankhon me bas jaate hain, kuchh dost dheere se alag bhi ho jaate hain, par ham jo hai sabko dil se chahte hain.
---
💦 best friend shayari  💦
रिश्ते तो बहुत निभाते हैं हम, लेकिन दोस्ती में रस्म निभाए जाते हैं, जब हार कर थक जाते हैं हम, तो बस दोस्त को ही बुलाते हैं हम।
Rishte to bahut nibhate hain ham, lekin dosti me rasm nibhaye jaate hain, jab haar kar thak jaate hain ham, to bas dost ko hi bulate hain ham.
---
💛 Dosti shayari in hindi  💛
दोस्ती छाओं देने वाली एक पेड़ होती है, दुखी मन को देने वाली दवा होती है, कैसे छोड़ सकते हैं तेरी दोस्ती, दोस्ती के बिना हर शाम अधूरी होती है।
Dosti chhaon dene wali ek ped hoti hai, dukhi mann ko dene wali hawa hoti hai, kaise chhod sakte hain teri dosti, dosti ke bina har shaam adhoori hoti hai.