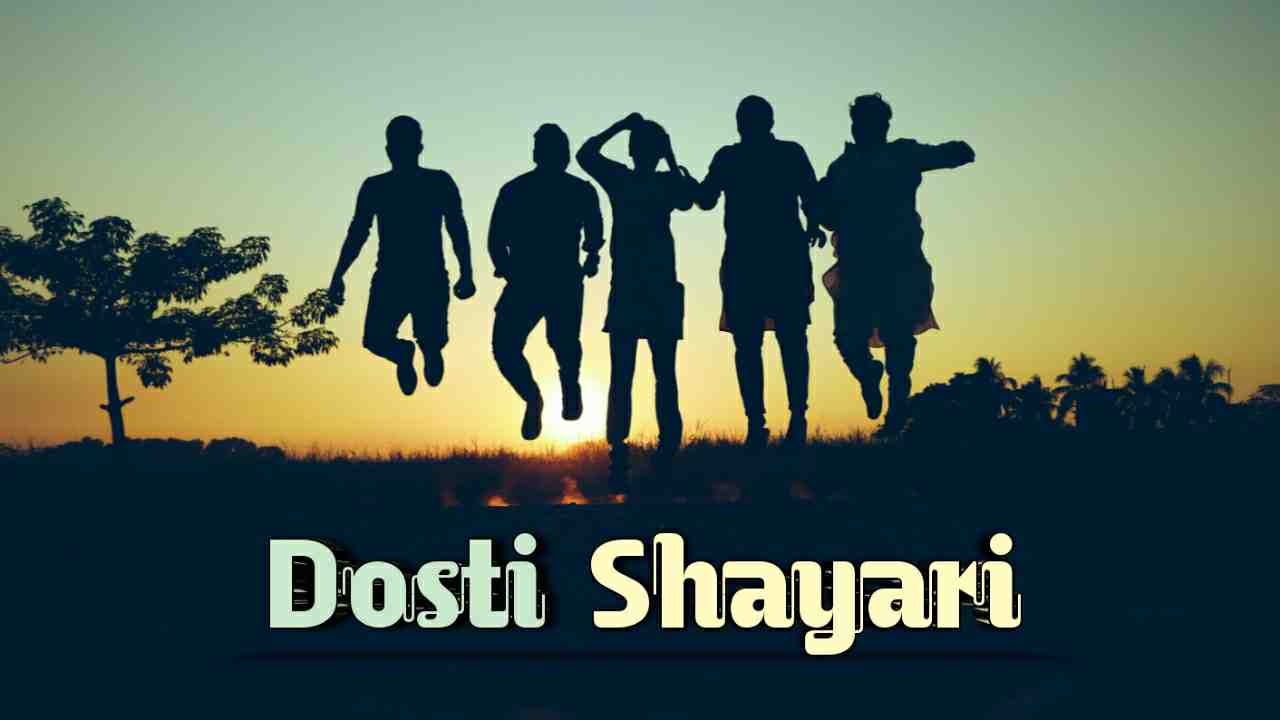 ⭐ dosti shayari ⭐
हंसी की कोई कीमत नहीं होती, कुछ दोस्तों का कोई तोल नहीं होता, लोग तो मिल जाते हैं हर रास्ते पर, हर कोई आपकी तरह अनमोल नहीं होता!
Hansi ki koi keemat nahi hoti, kuchh rishton ka koi tol nahi hota, log to mil jaate hain har raste par, lekin har koi apki tarah anmol nahi hota.
---
💦 दोस्ती शायरी  💦
ऐ यार जब भी तू दुखी होगा, मेरा ख्याल तेरे नजदीक होगा, दिल की गहराइयों से जब भी करोगे याद हमें, तुम्हें हमारे करीब होने का एहसास होगा।
Ai yaar jab bhi tu dukhi hoga, mera khyal tere najdeek hoga, dil ki gahraion se jab bhi karoge yaad hamein, tumhe hamare kareeb hone ka ahsas hoga.
💗 Dosti shayri  💗
यारी वो नहीं जो जिन्दगी देती है, यारी वो भी नहीं जो ख़ुशी देती है, अरे सच्ची यारी तो वो है.. जो पानी में गिरा हुआ आंसू का कण भी पहचान लेती है।
Yaari wo nahi jo zindgi deti hai, yaari woh bhi nahin jo khushi deti hai, arey sacchi yaari to woh hai, jo pani me gira hua aansu ka kann bhi pahchan leti hai.
---
💕 शायरी दोस्ती की  💕
किस्मत लिखने वाले एक उपकार करदे, मेरे दोस्त की किस्मत में  एक ख़ुशी और लिख दे, न मिले कभी जख्म उसको, तू चाहे तो उसकी तक़दीर में मेरी जान लिख दे।
Kismat likhne wale ek upkar karde, mere dost ki kismat me ek aur khushi likh de, na mile kabhi jakhm usko, tu chahe to uski takdeer me meri jaan likh de.
---
👌 dosti shayari in hindi  👌
आप जैसे यार हर जगह नही होते, कुछ हमारे होकर भी हमारे पास नही होते, आपसे यारी करने के बाद अहसास हुआ, तारें कुछ दूर तो कुछ जमीन पर भी होते। 
Aap jaise yaar har jagah nahi hote, kuchh hamare hokar bhi hamare paas nahi hote, aapse yaari karne ke baad ahsas hua, taarein kuchh door to kuchh jameen par hote.